Grepow is at the forefront of the battery market with the development of their advanced, semi solid battery technology. This new product range is more reliable than conventional battery technology and, more importantly, it is lighter in weight and delivers extended endurance.
The aim in designing the semi solid state battery has been an imperative driven by the need to address three significant issues: the reduction of weight, the increase of cycle lifespan, and the reduction of cost. Further considerations included under the development criteria are increased safety and efficiency, and an increase in the number of times the battery can be recharged.
With the semi solid battery design delivering considerably higher density than conventional batteries, it drastically optimizes performance and becomes much more cost-effective.
The Grepow semi solid lightweight battery is a significant step forward in the development of superior batteries that can provide high energy density, with longer endurance, ensuring a longer duration unit for powering UAVs and e-VTOL aircraft.
Testing has recorded remarkable results with ground-breaking cycle life performance and enviable capacity retention rates. Over 1000 cycles, testing recorded the battery still retaining over 80% of its initial capacity. It weighs 15% less than current battery technology and radically extends duration by 30%. Meanwhile, it delivers 275-300Wh/Kg energy density.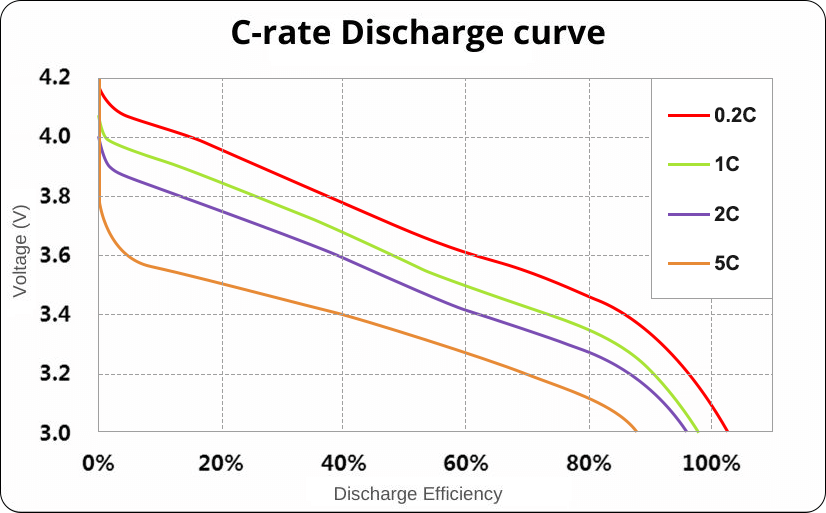 Grepow semi solid state batteries use a stacked-sheet pouch cell process and silicon-carbon anode material which accounts for its high energy density and results in a dynamic voltage imbalance of less than 100 mV. It incorporates a complex-coated separator to provide greater safety and uses Si material for over-discharge resistance (2.5V). It has a higher specific capacity with a positive electrode 190mAh/g and a negative electrode of 420~650mAh/g. Discharge efficiency can reach an impressive 84%.
Further ground-breaking technology developed by Grepow is their HV semi solid battery. While GRP semi solid batteries at 4.2V, provide greater energy density than ordinary batteries, the high voltage HV semi solid battery has an even higher energy density, starting at 285Wh/Kg and delivering an awesome 4.4V when fully charged. The HV semi solid is also customizable, to meet requirements.
Semi solid batteries can be equipped with BMS intelligent protection boards which provide security protection, data statistics, and allows the intelligent management of important parameters like voltage, current, temperature, capacity and the cycle life of the battery cells. Grepow's customized BMS also provides for short circuit protection, smart storage, high-precision SOC indication, battery health management, communication protocol management and data logging.
The brilliance of this new technology is that semi solid batteries can be customized to perfectly fit the shape or size of whatever appliance you need it for. The potential application for this versatility is endless.
Semi Solid Batteries Extend VTOL and UAV Performance
The Grepow semi solid lightweight battery has been designed to improve efficiencies and costs for all e-VTOL aircraft, which have vertical take-off and landing, and the ability to hover.
There are many key industries set to benefit from Grepow's important new technology advancement. Semi solid batteries will be a game-changer for the operation of unmanned aerial vehicles (UAV), like the UAV military aircraft which are guided autonomously or by remote control. These aircraft carry a bristling host of technology like target designators, various sensors, electronic transmitters and often offensive ordnance, which is designed to interfere with or destroy designated enemy targets.
Other industries besides the military, that rely on UAVs will also benefit from Grepow's semi solid battery innovation. The longer range will greatly improve the efficiencies of professional field drones used in surveying and mapping, and surveillance or aerial monitoring. For example, game park rangers and ecologists are relying on drones to monitor and count wildlife populations in a given home range, or to assist in recoding their migration patterns.
The agricultural industry has numerous applications for UAVs, and semi solid batteries are set to revolutionize the industry going forward. Farmers heavily rely on UAVs for aerial crop spraying, and they are now using drones for new efficiencies elsewhere, like aiding in the mustering of livestock, to bring them in from remote and difficult terrain.
Drones are a powerful aid to forest fire fighting, and they form an important part of the fire control toolbox. They can be sent above terrain too dangerous or too inaccessible for people to reach, collecting vital data critical to firefighting decision-making and planning. Likewise, UAVs are increasingly relied upon for search and rescue operations, and the longer endurance of semi solid lithium ion batteries provides a very welcome extended range of flight duration.
Drones are important in aerial photography and filmmaking, and many of them must carry a load of equipment like cameras, sensors and processors, which makes them heavy. Conventional batteries don't power them for very long and the significant extension of duration that is possible with semi solid batteries is going to have a great impact on the performance of these electric flying crafts.
Additional areas where the semi solid lightweight battery is set to make a real difference are in industries like cargo transport, construction monitoring, industrial patrols, medical applications, robotics and automation, and portable energy storage power.
Semi solid battery technology will also provide considerable impact on our everyday consumer electronics, and grid storage applications, by extending battery cycle life, improving safety and efficiency, and reducing cost. People can look forward to enjoying significantly improved performances in day-to-day applications like wearable devices, IoT and smart home automation, remote control devices and power tools.
Please contact us by email at [email protected], Grepow's website is https://www.grepow.com/. Tattu's ( Grepow Sub-brand ) link is https://www.genstattu.com/.